Senior Parties
&
Entertainment For Seniors
There is nothing more entertaining and engaging than senior parties and party ideas for senior citizens, is there? When it comes to entertainment, seniors know how to live it up!
Imagine if you could host a senior citizens party and have party games for senior citizens in a way that could bring the long dreamed of vacation or retirement right to your own back door?

You have all seen the beautiful, inviting brochures:
Where To Retire Overseas - Italy (Can you see the beauty, smell the food, taste the wine?)
Retire In Hawaii (Can you see the hula girls, hear the songs of Don Ho, hear the drums beating, taste the sting of the rum in the Mai Tai?)
Retire To Costal Equador Lifestyle
Retire To Playa Del Carmen

How To Retire In Mexico (Can you see the old woman making tortillas, the children barefoot and playing with each other, feel the tease of the hot peppers on your tongue; and don't forget, don't swallow the worm in the bottle of tequila

You've probably traveled to at least one of these places in your life and wished you could bring it home with you, haven't you?

What if I told you you can have it all? Yes, you can. You can have the most magnificant themes for your parties and entertainment for seniors with party food ideas, like party punch recipes, easy party food appetizers recipes, party games for senior citizens, and many other party ideas for senior citizens.
You'll have at your fingertips special decoration ideas and resources, and provide entertainment that will have your guests thinking they are on cruises for senior citizens or just arrived on vacation to one of those magnificant places.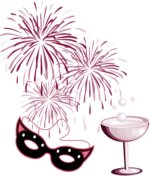 Your guests will think you have been planning your senior parties for months ahead. You'll find party planners to guide you with your group activities for seniors; from easy to follow ideas and suggestions. We like to call it "Senior - We Live Large - Moments".

You'll have senior night ideas, game activities for senior citizens, including adult party games, even hen night fancy dress, and specialty costumes for the handsome counterparts.

You'll have a handy and complete plan with ideas and suggestions of how to keep your guests excited and wanting to reciprocate by having the next bash at their house!

You are only limited by your imaginaton and your budget. One thing I know about seniors, they have vivid and extensive imaginations, and most can stretch a dollar like no one else. Oh, and did I mention, seniors know how to party!


However, I warn you. Be careful! These senior parties can be addictive. They become a treasure-trove of priceless humor, great fun, terrific friendships, libraries of photo memories, and a quality of life measurement to active retirement living and entertainment for seniors next to none.

Senior people meet and seniors live it up by having wonderful senior parties. Does it get any better than that on the quality of life scale?
Themes and Ideas for Senior Parties
Luau Parties for Seniors
Halloween Parties For Senior Citizens
Specialty and Theme Parties
Las Vegas Birthday Party Invitations

Design Your Own Custom Candy Bar Wrapper

Return To Seniors Live it Up Home Page