Halloween Party Foods
For Senior Parties
Halloween party foods can be anything you want them to be. Consider the time of year and go with what you like and recipes that have been hits with your family and friends in the past. Halloween starts the fall season with cooler weather and a psychological need to "feed, frolic, and hibernate". So a natural match for those three things can only be one thing. Comfort food comes to mind first when I think of halloween food ideas and Halloween party foods.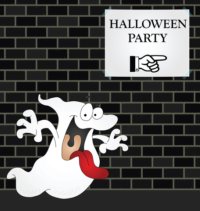 When you are comfortable with cooking food, and grow up cooking all your life, it's difficult to be precise when writing your recipes down on paper. Here's why. I'm from the world of "pinch of this, pinch of that, a dab of this or that". I also had the priviledge of being raised on a small farm with lots of garden items and farm fresh eggs and butter at hand all the time. Ahhhhhhh. Can you smell the freshness now? Halloween food ideas or just planning a simple meal, there's nothing like fresh pickings from the garden.
In addition, I don't think I ever saw my Grandmother use a measuring cup or measuring spoon for anything, or seldom a mixing bowl unless absolutely necessary. It was a dab in the palm of her hand, a pinch between her thumb and forefinger, and enough liquid to dampen the "well" in the center of dry mixtures she piled in a heap on the counter or table, where the eggs briefly lived until mixed with other liquids. Then it was mixed, kneaded, tossed, or stirred with her hard working muscular hands and fingers until it reached the perfect consistency for the dish being created. She made everything seem like easy Halloween recipes and more.
Now our kitchens are full of measuring utensils, choppers, mixers, food processors, mixing bowls, wooden spoons, spatulas, and a pantry full of dried herbs and spices. If a recipe takes more than five minutes in preparation time, we are bored and rushed already. No wonder we are called the "sandwich generation". I'm not saying that is wrong. Times and needs change.
I'm only saying we have missed out on some great masterful arts and artists with food and in preparation of it, whether for Halloween party foods or just feeding the family. Few will take the time to do the following recipes the way they were designed, many will do them a faster, easier way for their Halloween party foods. That's perfectly okay!
While there is no limit to the use of rosemary fresh from the garden, too much dried rosemary can spoil the taste of many dishes. And while fresh basil will fill the kitchen with a wonderful aroma that will inspire and enlighten your senses, too much dried Italian seasoning will over power the taste buds so you enjoy nothing the rest of the meal as it clogs your taste buds and screams for another bottle of red wine (just kidding). However, the difference between fresh and dried spices and herbs results in staggering differences in taste. Not just for Halloween party recipes, but for any recipes. Just remember, when using dried herbs and spices, less is more.
What does this have to do with Halloween party foods, you ask? Absolutely nothing, except the following recipes are based upon the facts mentioned about how I grew up in translating the recipes so you can use them. I'll try my hardest to make them as smple and accurate as I can under the circumstances. You may have to adjust the measurements to your own taste and desire here and there. But in the end, you'll have memorable Halloween party foods and tasty Halloween food ideas.
Easy party Appetizers - Halloween Appetizers
Nothing warms the senior citizen tummy or feeds the soul like good old fashioned ground meat pasties. It's a classic, a ritual, and a definite fall/winter constant grovel when the freezer is empty of homemade pasties like my sister-in-law used to make. My husband grew up in Michigan with his parents and three older sisters. Was he pampered? Absolutely! He definitely has his own set of taste buds and they don't spell "vegetables" at all. For lots of taste buds, Halloween food ideas spells "spooky".
But give him a good Beef & Potato Pie, Macaroni & Cheese, Meatloaf with Mashed Potatoes & Gravy, or Ground Beef & Potato Pasties; and the sky is the limit for anything I want from him as long as they last. (It's one of my ways of "sneaking" in the veggies under discreet camouflage). They really are wonderful, make ahead and freeze very well, and everyone loves them.
Ground Beef Pasties - Michigan Style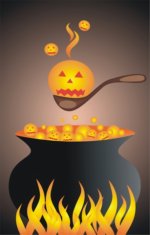 1 Pound Ground Chuck (or 1/2 Ground Beef & 1/2 Ground Sirloin)
2 Cups Russet Potatoes Chopped very small
1 Cup Chopped Sweet Onions
1/2 Cup Chopped Carrots
1/4 Cup Chopped Celery
1/4 Cup Olive Oil + 1 TB Worcestershire Sauce
Salt, Pepper, Seasoning Salt to taste
1 Package Knorr Beef Gravy Mix + 1 Cup Water
The secret is in the dough's consistency and keeping the aroma and moisture from escaping. I'll share both secrets with you.
Place all ingredients (except Gravy Mix & Water) in skillet with oil and slow cook until potatoes and carrots are tender. Drain fat from ground beef mixture and place back in skillet with gravy mix and water. Cook until everything is done and seasoned to your liking and gravy has thickened. Set mixture aside and prepare your pie crust from the recipe below. You're going to love these Halloween party foods!
Cut into 5 or 6 inch squares or rounds. Moisten edges with water and place a large spoonful of mixture in center. Fold over and seal edges except for one end where you will put a spoonful of gravy inside before sealing all the way. Press edges with fork tines and place on Pam sprayed cooking sheet. Brush with melted butter and lightly salt the pastry if desired.
Secret #1: DO NOT VENT DOUGH WITH SLASHES, POKES, PUNCTURES, OR DASHES. Do not break the seal on the pasties anywhere before or during baking. This keeps the moisture and aroma inside where it belongs. Bake at 400 degrees until golden brown.
Secret #2: Both my Grandmother and my Mother swear that you must "feel" the consistency of pie dough. You can't get that using a mixer, a food processor, two knives, or two forks. You must use your fingers and work the shortening (we use real butter) into the flour and salt. Once you get the "feel", you never forget how it is supposed to be, and your dough consistency will be perfect every time, for Halloween food ideas or any occasion.
Perfect Pie Crust Every Time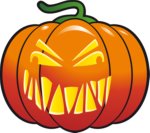 2 Cups White Flour
Pinch of Salt
Pinch of Sugar
Pinch Baking Soda
1 1/2 Cube Butter
3 - 4 TB Cold Water
1 tsp Lemon Juice
Place all dry ingredients in large bowl that has low sides so you can get both hands into it comfortably. Make sure butter is right out of the refrigerator and cut into very small cuges and drop into dry mixture. Start working the butter through your thumbs and fingers incorporating it into the flour mixture until it is crumbly like crumb topping. Do not add water or lemon juice until you have worked the butter completely into the mixture.
Crumbs should be half the size of small peas or less. Only add 1 TB of water at a time and work into mixture until it holds together to form a ball. You may or may not need all the water, but use the lemon juice diluted in the water. Wrap the ball in clear wrap and refrigerate or let set at room temperature for about half an hour. You are on your way now to fabulous Halloween party recipes!
Roll out dough and cut into 5 or 6 inch squares or rounds. Don't over work or over flour the dough when rolling. I roll between two pieces of wax paper in order to eliminate using too much flour. Too much flour will make the pastry stiff and chalky tasting. It will also turn a tender pastry into a tough one. You just want the pasties to hold together well, but still be flaky and melt in your mouth when bitten into. Easy Halloween recipes, right? There's more!

Tommy's Beef & Potato Pie - Shepard Pie
1 1/2 Pounds Ground Chuck
1/2 Pound Loose Italian Sausage
1 large Sweet Onion
1 Large Green Bell Pepper
2 Pkg Knorr Beef Gravy Mix
1 Cup Black Coffee
1 Cup Beef Consume
1 Can Whole Tomatoes in Sauce
2 TB Worcestershire Sauce
1 TB Steak Sauce
1 TB Rosemarry
Salt, Pepper, Garlic to taste
1 Bag Frozen Mixed Vegetables
4 Large Russet Potatoes
1/2 Cube Butter
1/4 Cup Milk or Half And Half
3 TB Grated Romano or Parmesan Cheese
In large deep skillet, brown both meats with chopped onion and peppers. Drain fat from mixture. Add salt, pepper, and garlic to taste. Add Worcestershire and Steak Sauce. Add Rosemary. When meat is brown and onions and peppers are tender, add tomatoes that you havbe prepared by tearing them apart into bite size pieces. (You can use diced tomatoes, but they have a tendency to cook up too much and become sauce. I prefer larger pieces that keep their body and texture).
Mix coffee, consume, and gravy mix to get rid of any lumps formed then pour over meat mixture in skillet. Add frozen vegetables. Let simmer until gravy thickens and vegetables are defrosted and hot. Remove from heat and slightly cool.
Boil potatoes in water until right consistency for mashed potatoes without lumps. Drain, peel, and pulverize potatoes. Add salt, pepper, and butter. Mix well with mixer. Use milk or half and half to thin potatoes to nice soft and smooth consistency. You're almost finished with this delicious Halloween party foods idea.
If you have a cast iron dutch oven or deep skillet, this is perfect for this pie. Deep Pyrex dishes work well also. Pour meat mixture in the bottom of pan. Spoon potatoes over the top leaving edges and the center uncovered. You can use a pastry bag to make the mashed potatoes more decorative and uniform, but spooning them on and leaving peaks works well, too. Sprinkle with grated cheese. Place pie uncovered in preheated oven to 350 degrees for 1 hour or until bubbling around edges and potatoes have turned golden brown on peaks. Let stand for a few minutes before serving. Serves 10 - 12 with ample portions. I've never served this and other Halloween party recipes that guests didn't love.

**Note: It's better to make 2 pies than to make meat portion of this pie too deep. You can use deep dish glass pie pans to make the perfect height Shepard Pie. Otherwise, the meat will overpower the potatoes. It should be a good balance of both.
**Note: If you want to dress this up for Halloween party foods, you can add a large dollop of sour cream to the center and spread into a circle. Place gravy in the middle and drag the color with a toothpick to the outer edge of the circle in several straight lines then cross the lines to form a spider web look.
Halloween Desserts - Halloween Cake Ideas
One of my very favorite Halloween food ideas is Halloween desserts. The ones I'm thinking about are a special pumpkin spice cake/pie that I learned years ago from a friend named Olive, and my Mother's special pumpkin pie, and my Grandmother's special pumpkin bread. These easy party food recipes are good anytime of the year; but especially for Halloween party foods when the weather gets cooler, and the need for comfort food gets more demanding in your mind and on your senses.
There's nothing quite like the aroma of pumpkin spices coming from the kitchen to make you feel welcome and right at home. There's a warmth that covers you like a Grandmothers' hug. I refer to it as a warm-fuzzy. Remember that warmth? Enjoy this delight, and add it to your easy Halloween recipes.
Olive's Pumpkin Spice Cake/Pie
1 Betty Crocker or Duncan Hines Cake Mix
(I prefer spice cake but white or yellow will work, too)
1 Large Can Pumpkin Pie Mix (Plus ingredients as directed on can)
1 Cup Chopped Pecans
1 Cube Butter (1/2 Cup)
1/2 Cup Brown Sugar
Pumpkin Pie Spice to taste
Real Whip Cream
Pam spray a large oblong 8 x 11 glass bread pan then flour to prevent sticking. Set aside. Preheat oven to 350 Degrees. Prepare pumpking pie mix as directed on can for pie with eggs, milk, spices, etc. Pour prepared mixture into bottom of bread pan.
Open cake mix and break up all chunks. Sprinkle DRY cake mix over top of pie filling in pan. Make sure you get it evenly distrubuted all over the top, but do NOT press or pat down. Leave loose like crumb topping would look like. Sprinkle brown sugar over the cake mix. Do not stir, do not pat down, just sprinkle loosely over top. How easy is this for your Halloween party foods?
Melt 1 cube butter completely until all liquid and slowly drizzle melted butter over top of entire cake. cover as much dry mix as you can. If some is left uncovered, that's okay. Just cover as much as you can in a slow steady stream back and forth, up and down, like you would for lacing with thin icing.
Next, sprinkle top with chopped pecans. Place in oven and bake for 1 hour to 1 1/2 hours, or until knife inserted in middle comes out clean. This makes a huge cake, so be patient and don't be afraid of over cooking it as ling as it doesn't burn the pecans. You could put the pecans on half way through cooking, however, I prefer at the beginning to avoid the cake falling in the center. If your timing is off just a couple of minutes by adding the nuts in the middle of the cycle, it could spell disaster. You don't want that for your special Halloween party foods, do you?
If it looks like the pecans are going to be too brown, loosely tent the top with aluminum foil, but do not seal edges. You can also safely drop your oven temperature to 325 degrees and just cook a little longer and a little slower until the knife inserted comes out clean. This is by far the safer thing to do for best results of your Halloween party recipes.
The cake mix will disappear into the pumpkin, the brown sugar and pecans will "ice" and coat the top, and the consistency will be somewhere between pecan pie and pumpkin pie. The taste will be one you will want to duplicate often. It's a definite crowd pleaser. And it's festive and beautiful. Easy Halloween recipes fo you!
The cake will rise to the top of the pan and look like it might overflow in the oven, but it won't. It will, however, make a very full and high cake that will easily make 10 -12 generous portions. Serve with a dab of whip cream after chilling. This is a perfect dessert for a crowd, and so easy to make.
When I make this cake/pie, I relive my fond times with my friend, Olive. We used to go to Las Vegas for a few days together. She was 10+ years my senior but she used to go home with only 3-4 hours sleep after being in Las Vegas for 3-4 days! She put me to shame on stamina, energy, and go-power!
We stayed downtown, played downtown, went to shows downtown, and really had a ball every time we made this trip. Her favorite thing in the world was the 99 cent shrimp cocktails. Both Olive and the shrimp cocktails are a thing of the past now, but memories we made will last forever. So enjoy her cake and make special memories like this with your own Halloween party foods and easy Halloween recipes.
Halloween Snacks
Nothing says Halloween Snacks and appetizers for your Halloween food ideas like caramel and candy. Caramel apples, caramel popcorn, caramelized nuts, candy corn; and ever famous pumpkin candy and licorice. However, I doubt you will ever see a group of senior citizens actually bobbing for apples or eating a caramel apple at a party. I can visualize the scene now with these Halloween party foods, can't you?
You could find a bunch of hands racing and red faces blushing while they scramble for the false teeth at the bottom of the tub! Now, that would be a real photo opportunity; wouldn't it? But caramel is a hit at any age, and loved by many any time of the year. We found a good alternative snack suitable for seniors. Another of the easy Halloween recipes for you!
Sweet & Salty Spiced Nuts
1 Large Can Salted Mixed Nuts
2 Cups Sugar
1/2 Cup Water
2 TB Corn Syrup
1 Tsp Cinnamon
1 Tsp Nutmeg
1 Cup M&M Dark Chocolate Candy
Combine sugar, water, and syrup in a sauce pan. Insert candy thermometer and stir over medium heat until sugar dissolves. Reduce heat and stop stirring. Cook uncovered until candy thermometer reaches 240 degrees. (Sounds more like cooking up a Devil or two for your Halloween party foods, doesn't it?) Remove from heat and stir in spices.
Once mixed well, stir in nuts and immediately turn out into a wax paper lined cookie sheet to cool. Spread as far and as thinly as possible. Let cool until hard then break into bite sized pieces or into individual nuts. When cooled, mix with M&M's to serve this colorful snack and add these easy Halloween recipes to your own. The saltiness and sweetness of the nuts are a perfect blend with a small amount of dark chocolate for a perfect balance of flavors. They will be a huge hit for your Halloween party foods.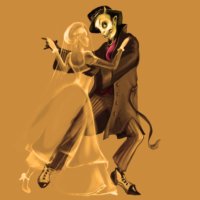 If you have kids, they want scary and easy Halloween recipes, but not necessarily so for adults; and especially not for seniors. Seniors live it up by enjoying each other in a happy party environment and find their amusement with each other. They make special conversation while enjoying attractive palatable foods they know and recognize. Secondary to them are your Halloween party foods, as long as they can recognize it.
Kids make their fun with things, things, and more things. The scarier the better. Most of their conversations are going to be about the "things". The more toys, the more decorations, and the more scary themed foods take the first place position with kids; but not with senior citizens.
So decorate your house, your yard, yourself, even your dog; but don't go over-board on decorating your Halloween party foods. Seniors, especially, want to see and identify what they eat. The scary Halloween sounds are okay, but they draw the line with scary Halloween party recipes. If they can't identify what's in it, they probably are not going to taste it.
While there are many Halloween food ideas and easy Halloween recipes to choose from for your Halloween food ideas; consider the crowd, what you know as crowd pleasers, and simplicity, and time of year. What appeals most? Where do you want your focus to be? Keep in mind most seniors prefer to focus on each other rather than scary Halloween party foods . Seniors live it up and enjoy each other first!
Just keep in mind that Halloween party foods and Halloween food ideas can be anything you want them to be. Make them colorful, make them tasty, make them fun, and make them easy Halloween recipes. But put your main focus on your guests and their entertainment and interaction with each other. You are sure to have successful Senior Parties of all kinds! Hope you enjoy all your Halloween party foods!
Go to top of Halloween Party Foods

From Halloween Party Foods go to Adult Party Ideas For Seniors
From Halloween Party Foods go to Halloween Decorating Ideas For Seniors
From Halloween Party Foods go to Halloween Party Game Ideas for Seniors
From Halloween Party Foods go to Other Senior Parties
From Halloween Party Foods go to Seniors Live It Up Home Page