Exercise For Seniors - Best Thing You Can Do For Your Well Being
Exercise for Seniors is probably the most important thing you can do for yourself to make it easier for you to maintain your independence. It's a well known fact that just when you think nothing can get in your way to slow you down, the rude awakening of old age rears it's ugly head.
For a brief moment all you have is feelings of disgust and decrepit. You suddenly have lost your youthful sense of well-being and no longer feel happy, healthy, OR useful. Along comes stiffness and soreness, a weakened immune system, your mental clarity is clouded, your sexual energy is spent, and you find it difficult to laugh and play anymore. Sound familiar? Well, senior exercise might be for you.
Senior citizen fitness is a trend taking the world by storm. What used to just be a part of an everyday work routine, is now presented as "youth" being bottled, packaged, and sold in every nook and cranny available. Everywhere you look there is a program of fitness for baby boomers, an elderly exercise program or piece of boomer fitness equipment.
And don't forget the "lightning fast results" in a bottle. It's a quick fix, it is instant results, it is empty promises sold repeatedly; and we keep buying it. Why? Easy answer. We want to preserve our youth.
Take A Walk For Your Health

Take a walk, my friend. While you are walking, think about your desire for living life to the fullest. Put a little energy into those steps. You're part of seniors living it up! There are huge health benefits of walking. Did you know walking is one of the best ways to burn fat? Walking to lose weight has become one of the most popular forms of low impact exercise known. It is probably the very best exercise for seniors. Discover more about the Benefits Of Walking.
Exercise At Home For The Fun Of It

Exercise for Seniors can be a pain free experience. Grab a copy of a senior exercise dvd with some chair aerobics or just a pair of free-weights. Chair exercises for seniors has become a valuable asset toward balance and coordination and especially good for circulation. Light weights keep the flab from your upper arms. Beyond the health value, it just makes you feel good! Try an exercise ball workout. Find a weight lifting routine with kettlebell exercises or even chair aerobics. You've got to love the idea of "sit and be fit", right? Discover more about the Benefits Of Low Impact Exercise.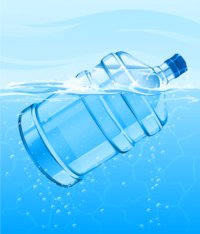 Water Has A
Two-Fold Benefit

There's great power in water. Indeed, you don't drink enough of it; but you forget how good it feels, and how freely you can move in it. Senior water aerobic exercise takes less energy, gives you greater mobility, and increases your strength and balance. Arthritis water exercise and osteoporosis exercises in water have grown in popularity because of the successful results. Senior aerobics with a group of friends is just plain simple fun, and it's a most beneficial senior workout! Learn more about Water Exercises For Seniors.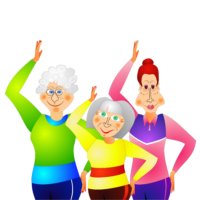 Join Your Friends At A Gym For Senior Aerobics
One thing you need as a senior citizen is balance exercises. Much can be gained by joining a gym. There you have access to a senior exercise instructor offering beneficial programs, tips and assistance. The agendas vary from senior weight training, balance exercise, exercise ball workouts, and more. Have fun with friends and get a good senior workout. Learn more about Balance Exercises For Seniors.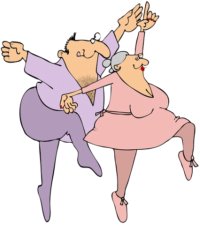 Dance Away Your Troubles

Dancing and dancercise programs are a great way to have fun and becomes very beneficial to your health and fitness. We've all seen and probably danced to the Richard Simmons dance exercise videos. He exudes so much energy and happiness! Do you love to dance? Why just sit home and watch Dancing With The Stars when you can participate? Get out there and move your booty! Shake what your mamma gave you! Great exercise for seniors, and a terrific way to meet other seniors living it up. See how here Live To Dance.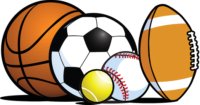 Gather A Crowd For Sports And Get a Little Senior Workout
Many seniors live it up with sports events, both participation and spectator. If you are into the sport, they both expend a lot of energy! Senior softball is ever so popular. Senior citizen sports events are all around you. I particularly love the major league baseball spring training, don't you? And the Stanley Cup Playoffs. Neither, of which, gets exercise for seniors unless you do a lot of jumping up and down and take a long walk from your vehicles and back.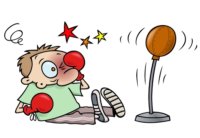 Don't Get Sucker Punched - Just Get Moving!

There is also Senior Olympics, little league games, high school sports senior night, and soccer for all ages. If you don't play, at least move around, yell, get involved, and expend all the energy you can. Most of all just have fun! Take seniors living it up to a whole new level. Let's hear you!
Exercise for seniors will have more information in the coming months. We will give you specific facts and ideas about many elderly exercise programs and senior citizen fitness, aging anti exercise, and things like Tai Chi Health Benefits.
Here's a great link for you to learn more about the benefits of exercise that combines walking, jogging, and biking for your fast weight loss exercise routine or just for the "health of it". Walk or jog your max then bicycle back! Take a look:
Seniors Walking For Fitness & Weight Loss: Walk-A-Bike.

Return to HomePage.
Return to top of page Exercise For Seniors

Here are the other senior exercise options for you:

Low Impact Exercises For Seniors

Or Return To The Home PageSeniors Live it Up