Senior Living Communities & Active Senior Communities
Have you decided what kind of senior living communities you want to be involved in? You've thought long and hard about the things that will make you happy, what to do after retirement, what makes you feel your best, what you can and can't change or live with and/or without. You've experienced all the emotional roller coaster thinking that you care to for a while. One more "thinking cap" project and you will have smoke coming out of your ears, right?
No, I'm not going to put you through that again; but, I would like to help you find a perfect place to relax in your coming years with lots of things to do that you love, and plenty of new ones to explore. You have made yourself sad. You've made yourself happy. You have visualized how you want your life to be.
Laugh And Have Fun
Hopefully you have gained great reasons to laugh and have fun; but what about the WHERE of your active senior communities? When you think about seniors for living, do you visualize a place of your own designed for easy care? Would you like to be a part of senior living communities that combine luxuries of life with a bit of country charm?
Do you need retirement living communities with plenty of individual and group activities? Is it your wish to live in a large city with the hustle and bustle of activities constantly going on outside your window? The streets that are big tree lined with lots of traffic and small quaint specialty shops of galleries and boutiques, and sidewalk cafes, festivals in the street, and feasts of surrounding neighborhoods, and get-to-know your neighbor get-together from all walks of life in one small tight city area.
Family And Friends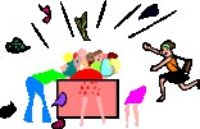 There is always a great desire to be near family and close friends. It is also important to be close to things you need and use frequently. It's always rewarding and refreshing to hang out with friends, family, and acquaintances that you've known for years.
However, there are equal reasons to move to active senior communities. A need for smaller spaces, cannot maintain large property either physically or monetarily any longer are just a couple of reasons. Equally, a reason might be the loss of ability to care for oneself for meals, shopping, cleaning, etc.
Afford You More Time
Senior living communities might be just right for your active lifestyle at a sensible price. It could afford you more time to do the things you want to do, offer low levels of maintenance, share the camaraderie, and overall make all things better for you. It is a well-known fact, people are the heart and soul of any community; and senior living communities are no exception.
Active senior communities are cropping up all over the world. The ones with the most "toys" are the ones most popular and desirable to the masses. Some of these are actually recreational paradises in the making, offering spectacular amenities and surroundings. Many host senior citizen centers offering entertainment, shows, and plenty of nightlife and other exciting things to do. Some are connected to major cities offering theater, ballet, opera, symphony, and jazz. You can live in the thick of it where every day is a holiday.
Seniors Live It Up!
While most retirement living communities offer the normal activities where you can toss horseshoes, play shuffleboard, practice on the putting green before playing 18 holes of golf, have a beer or two on the patio, cool off in the pool, relax in the spa, have a late afternoon snack, to a formal dinner for a group, an intimate and small casual dinner for two, or join a happy hour crowd around the piano bar before dinner and tripping the light fantastic on the dance floor. This is custom made for seniors living it up!
Do you desire the active senior communities activities of the outdoorsmen, from fishing to boating; or to watch a sunset along the banks over the calm waters, rock climbing or four-wheeling with off-road vehicle caravans, wilderness adventures, river rafting; or take great pleasure in watching the fog roll in over the ocean? Your passion is fishing tournaments, sky diving, shooting skeet, spring training baseball, little league games, horseback riding, laying under a tree reading a book, or other outdoor activities? Your desire is to get as much fresh air and sunshine as you can every day.
Wake Up In Paradise
You envision senior living communities where the natural beauty in water that glistens with atmosphere unspoiled and beautiful, natural parks with rambling lanes to stroll through, crested mountain tops of snow, sitting on a park bench and nature watching, a hot air balloon ride? You like that this is a place where sleep comes easy because your days are so filled with natural beauty that fills your heart with happiness just to wake up every morning in this paradise.
Do you want your senior living communities to be far enough away from it all yet central to big city important facilities that you need like state-of-the-art hospitals, diverse shopping and extraordinary dining experiences? It's a quieter, calmer, slower side of life, and reminiscent of a time of simple elegance with grace and civility; where meals are an unforgettable culinary experience and service is only impeccable; entertainment is free or at least cheap and lively.
Freedom Living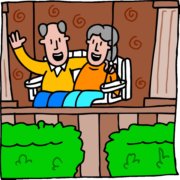 A retreat into the city AND an escape into nature, it's the best of both worlds. This is a special time when people take the time to know each other and their neighbors, even if they are miles away. I like to call this "freedom living". This is the ultimate in senior living communities.
Benefitting the senior lifestyle with discriminating seniors, there's great peace of mind in being some place that makes you happy; where there are more things to enjoy and more time to enjoy them. Getting old does not have to be a dreaded disease. It can, and should be, a delightful experience. You need only to delight in the life you choose for yourself. I say, seniors live it up!!!
Return to the top of Senior Living Communities

Learn more about Senior Living Communities at

Or Return To The Home Page Seniors Live it Up