National Grandparents Day
When is Grandparents Day? This year Sunday, September 9, 2012 is National Grandparents Day. While we all know what the significance is of this special day, it's easy to forget the importance our physical presence and emotional connection plays in that to a senior citizen grandparent.
It really doesn't matter much your belief of what is a grandparent, or your personal thoughts on a grandparents legal rights, or even whether those grandparents with grandchildren like you or don't. You must step outside of yourself for the moment and let the union (or reunion) do what it has to do. A grandparent needs a grandchild and a grandchild needs a grandparent, even if they have to adopt a grandparent or a grandchild. It's not about you. It's about National Grandparents Day.
It's difficult for me to relate to that situation having lived with my grandparents and great grandparents most of my life. As a child, I could never imagine life without them, and as an adult I miss them terribly. My mother had one or more parent/grandparent living in her home most of her adult life. I have the happiest memories of them.
They were all so instrumental in my growth into womanhood. Every day was National Grandparents Day to me. I have the greatest love, respect and admiration for them. I could never get enough of them. Even though they have all passed now, they are alive and well in my heart, and forever will be until we meet again.
National Grandparents Day marks a time of celebration and lots of grandparents day activities for some. While there are many craft ideas for grandparents day, and tons of pictures in grandparent picture frames to give, personalized grandparent gifts and special cards to make; don't lose site of what is real and what they REALLY want. The one thing, the most important thing, to any senior citizen or grandparent is your TIME.

Inspiration, Information, Ideas, Instruction
While it is wonderful for you to have a grandparents day coloring with the kids, telephone conversations of parents vs grandparents, even a special hand written grandparent poem can never be compared to the warm sound of your voice, the light behind your smile, the glisten in your eyes, and the touch of your hand on theirs. Your time, the one thing money can't buy, or they ever have enough of.
This year for National Grandparents Day, pick more personal gift ideas for grandparents and senior citizens. Extend yourselves to enjoy a senior bus tour with them. There are many senior travel tours, check to see what is available in your area. Make it a family outing with a picnic lunch or their favorite bistro for dinner after the tour. Spend some quality time with them. Let them know they are loved by sharing your time with them.
Plan a grandparents day at school. What fun for the kids AND the grandparents to show off to each other their own uniqueness and sense of humor. Plan a weekend cruise for the whole family. If you can't afford a cruise, try a houseboat rental for the day on the lake. Go miniature golfing. Get together with them and all the family pictures and make a family scrap book or two. Don't make it for them, make it with them. The point is to extend yourself to give your time as the most important gift of your life, and especially theirs. Enjoy your family grandparents, and allow them to enjoy you, too.

Easy Chef Prepared Meals America's Most Popular Prepared Meal Website! 1,000's of Delicious Gourmet Choices Delivered to you Nationwide! Save $20 to $30 Today in our Chef Specials Section!
If you are too far away to enjoy that, buy senior cell phones as ideas for grandparents day. Call the phone number to record everyone's special message, tell a story, remind them of a wonderful time you had in the past, engage them in your "now" life so they can imagine it, make it a time capsule of current events to make them feel a part of your life. I promise they will listen to those messages hundreds of times over to bring them daily doses of joy. Purchase free minutes for them to call you often on that phone, too. This gift keeps on giving. It's your gift of time to those you love.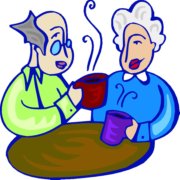 Other unique gifts for grandparents day is Webcam 101 for seniors. Purchase the webcam for them, hire someone in their area to install it and show them how to use it. Set up a session weekly or monthly to involve them in your lives. They will be able to feel a part of your world by inviting them into your home from afar. It's the gift of time that cannot be replaced. I promise the computer screen will have finger prints from them touching your face, kisses planted on your face, and tears of joy for just sharing these moment of your time.
For this National Grandparents Day, give the gift of time. YOUR time. Give them the gift of YOU. Sure, make grandparents day activity sheets, let the kids do some grandparents day clip art and write a grandparents poem. I'm not saying they are not appreciated, because most of the time they are. But if that's all you've got then you might miss some great grandparent humor, a wonderful story of their special grandparent travel, or their own sweet version of how to be a grandparent to you and yours. Why would you ever want to deprive yourself of such an event? Seniors live it up. Be a part of it all.
Return to the top of National Grandparents Day

Return to Home Page Seniors Live it Up

Return to Senior Party Page Senior Parties