Halloween Decorating Ideas
&
Halloween Party For Seniors
Halloween decorating ideas can be as simple or as detailed as you take the time for with decorations for your senior citizens party and adult Halloween party ideas. While many like to take it over the top, some small things can have a huge impact, too. By small things I mean things like jack-o-lanterns, Halloween crafts, black cats and witches are a common décor, with simplicity and usefulness to accomplish your Halloween party ideas for senior parties.
ADULT HALLOWEEN PARTY IDEAS
What kind of Halloween party for seniors do you want to have? Do you plan a sexy Halloween party? Or perhaps something with funny Halloween pictures from the past decorated on standing easels with captions on the bottom of all your invited guests. It doesn't cost a lot of money to enlarge photos to poster sized prints. These are all easy Halloween crafts and fun Halloween party ideas. Many laughs and shared memories come from these photo decorating ideas. This is a great idea for conversation areas within a large group of senior citizens as alternative Halloween decorating ideas; and perfect ice breakers for those new to the group, too.
You can create a complete Halloween haunted house, or you can keep it simple by creating a walkway Halloween haunted house theme from the back door to the patio, or from the entry gate to the front door, or even the foyer entrance to other parts of your home. Don't be afraid to use black construction paper for bats, spiders, and black cats to enhance your Halloween party ideas. Black crepe paper drapes, pleast, and tacks quite easily as walls and back-drops, too, to add abundance of interest to your Halloween decorating ideas.
HALLOWEEN PUMPKINS & HALLOWEEN YARD DECORATIONS
It doesn't have to cost a lot of money to succeed with adult Halloween party ideas. For instance, plain paper bags weighted with sand and creepy Halloween designs cut out to let the light from small encased candles inside the bag shine through for lighting a path to the door. Some people use Christmas lights instead of candles for fire prevention and safety for their adult Halloween party ideas.
You can also do jack-o-lanterns with scary faces cut out and candles or Christmas lights inside to line the path or make special effects on the patio and porch. Simple lanterns can also be hung for outdoor party lighting. You want to create an atmosphere for your adult Halloween party ideas, right?
VINTAGE HALLOWEEN DECORATION
Of course, you can always purchase vintage Halloween decoration and take on more sophisticated Halloween art projects if you want a more upscale Halloween party for your Adult Halloween party ideas. There is no end to the selection of indoor and outdoor Halloween decorating ideas. You could even have a special Halloween Masquerade Ball if you want requesting formal costume attire to attend.
HALLOWEEN SOUNDS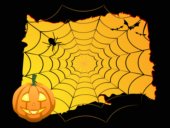 What do you want to accomplish for your guests entertainment at this senior house party? What theme are you wanting to create with your Halloween decorating ideas? You could have old Halloween movies series like Slasher-Films or Friday the 13th, or a tamer Spider-Man running on walls from rented projectors in life-size black and white as Halloween party ideas. You could run some Halloween theme music, scary Halloween music from Halloween scary sound machines going through the house and/or yard.
You could also narrate ahead of time on several recorders old classic scary Halloween stories with intimate seating around for guests to stop and enjoy with their cocktails and appetizers. This adds tremendous excitement to a specific area of the party and very influential Halloween decorating ideas for conversation. You'll find it's a special place where senior people meet, and they will want to linger awhile.

HOME MADE HALLOWEEN DECORATIONS


Scarecrows are always popular as Halloween decorating ideas. The scarier, the better. You can always get a bale of hay, some jeans, a flannel shirt, and an old chewed-up straw hat. Dress it up, make it creepy, eerie, and spooky with catsup and paints. Maybe give him a hook for one hand and a pitch fork in the other. Or give him a few ears of corn and a machete raised over one shoulder.
Or as another section of your Halloween party ideas, you can have a mad scientist lurking around the table of refreshments that might have a Halloween fruit punch with a little dry ice in it for fog effect and simulating the "mad scientist's brew". Your guests will love the intrigue and want to taste his brew.
This might be the occasion as added Halloween party ideas, to hire a couple of professionals to give free Tarot Card Readings, or a Magician that casts spells on specific guests, or Psychic Readings and/or Body Painting. Or if you happen to have a fire pit in your back yard, this would make a perfect simulated bonfire. Roast marshmallows, serve S'mores. That's always a treat regardless of age. Who doesn't like chocolate, marshmallows, and graham crackers?
HALLOWEEN MYTHS AND HALLOWEEN SUPERSTITIONS
Don't be afraid to use Halloween myths and Halloween superstitions as a guide for your Halloween decorating ideas, too. You could set up ladders for guests to walk under, break mirrors on their paths, use cut-out black cats to run across their paths, and the likes. These are just a few haunting attractions and Halloween party ideas you might be inspired to produce.
A small amount of dry ice in a fogger or mister creates spooky Halloween yard décor. It creates a smoky haze of fog over the immediate area and a great addition to your adult Halloween party ideas. The ground below could be a good place to half bury body parts of a skeleton or a witch; and place a few headstones with RIP painted on them. These are easy enough to create with Styrofoam and a little spray paint. Use your imagination and create skeletons on Styrofoam sprayed black and then white iridescent paint for the skeletal bones. Use wire stuck in the bottom of the Styrofoam to stick in the ground to keep them in place in case of a breezy night.
SENIOR PRANKS & HALLOWEEN PARTY GAMES IDEAS
I don't know if it is celebrated in your area, but the night before Halloween was always a fun night, too. In Detroit, it's called "Devil's Night" or better known as "Mischief Night". Do you have this celebration where you live? It's usually a group notorious to toilet papering trees, cars, houses, bushes, anything in their paths on Halloween Eve. Sometimes they get overly-mischievious and use water balloons and raw eggs. I hope these are not the characters in your neighborhood, as we know these can be very destructive and kill good adult Halloween party ideas and plans. But if kept tame, this could be a very entertaining venture for seniors. Just beware the party ideas for senior citizens and those senior night ideas. They might "spook" you! Booooooooooooooooooo!
UNIQUE HALLOWEEN COSTUMES
Halloween stores have an awesome selection of Halloween costumes for sale and an abundance of Halloween party ideas. You might be ready for some weird Halloween costumes or original Halloween costumes that are not sold anywhere elswe. That's the time for home made Halloween costumes creativity and initiatives. You have probably saved or seen and remembered some pictures from the past that you would like to duplicate for your Halloween haunted house theme party, or other Halloween party ideas for seniors.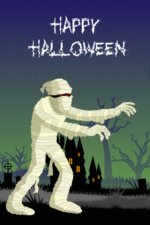 Just keep in mind, it doesn't have to be made very well because you are only going to use it for one night. So however you can whip it together for a short time will definitely do. The main thing is the originality you want to produce. You can see it in your mind, now you want to reproduce what you see. Use fabric glue on torn pieces of fabric, staples to re-create seams and hems, and don't forget the usefulness of duct tape. One distinct costume that comes to mind is a Halloween Mummy, or just use for interesting Halloween decorating ideas.
The outcome is everything; the effect to draw attention to your Halloween costume and Halloween decorating ideas, and entertain your guests. However you size it up, seniors know how to have fun and seniors live it up. There are just too many Adult Halloween party ideas to get them all in on one or two pages. Use your imagination, and come back often as we add associated pages.
Return to top of Halloween Decorating Ideas

Return to Other Adult Halloween Party Ideas Pages

Return to Other Senior Parties Menu

Return to Seniors Live It Up Home Page