Adult Halloween Party Ideas
For Senior Parties
When you are planning your special themes for parties, don't leave out adult Halloween party ideas for senior parties. These are among the happiest of all Halloween fun, some of the most memorable, and some of the most wonderful things come from places where senior people meet for a senior citizen party. It's magical. This makes for wonderful photo opportunities for enjoyment for years to come.
When you think of those things, then add black cats, jack-o-lantern, Halloween haunted house, ghosts and ghoulish pranksters; creepy creations, scary Halloween music, easy Halloween costumes, senior party decorations, good Halloween party foods, fun, and frolic; what comes to mind for you?
I'll bet it holds a few really old Halloween legends, Halloween myths and your own personal scary Halloween stories, doesn't it? Are there a few black cats running across those paths?
Easy Halloween Costumes
Me, too. Among my memories of adult Halloween party ideas, I can't help but remember this story:
My goofy uncle once surprised my aunt when they were waiting for trick-or-treaters one Halloween. He sneaked out of the house, went to the garage and stripped down. He then slipped into a pair of galoshes, a trench coat, and a pair of sunglasses before he made his way around the house from the outside to the front door without being discovered or missed. He rang the bell, and my aunt answered in anticipation of her first trick-or-treater of the night. What she wasn't expecting is the easy Halloween costumes that were before her.
Imagine her surprise when he flashed her while yelling out "trick-or-treat". Her shocked expression and surprise caused my uncle to get the giggles and when he started laughing, it was a dead give away as to his identity. This made for some very funny family senior parties moments in memory of her face when she tells this story. I've never seen the word "blush" defined so well. I'll bet you have similar senior parties stories, don't you?
Even today, many years later, he is still a big prankster, and not saved specifically for Halloween and doesn't always involve easy Halloween costumes. He lives by the "element of surprise" rule and has shown my aunt a very interesting life as a result. We all have very happy laugh lines embedded into our faces because of him. He represents our very own senior citizens party of one; and he is master entertainer always; and I'll bet even today he is not short on adult Halloween party ideas. What do you think?
Now, I don't recommend this Halloween prank with your adult Halloween party ideas; but you could be creative with attire under that trench coat that would be appropriate child-proof for your senior citizens party, just in case. Perhaps a black and white horizontal striped prison jumpsuit, or a blue leotard with Superman on the front? Or maybe a black leotard with a skeleton painted in white on the front for easy Halloween costumes? It's the surprise element of the "flash" regardless of what is underneath the trench coat.
Adult Halloween Party Ideas
There are literally thousands of adult easy Halloween costume ideas on the market; and just as many more being conjured up in some senior citizens party mind as we speak. We are a select special group of pranksters, aren't we?
What's your pleasure? Quick easy Halloween costumes like the ones you can pick up at last minute Halloween costume stores? Will it be a Halloween vampire? A werewolve? A scary witch? A black cat? Or will you show your softer side and revert to your childish ways with a Smurf's Halloween costume or other Disney Halloween costumes for your senior parties? I love senior citizens who are not afraid of their inner child, aren't you? They are the happiest bunch ever!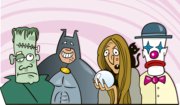 Yes, children enjoy Halloween; however, I think senior citizens enjoy it more. It's a time you can shed the inner reservations and intimidations and just have fun and be whatever you want to be at your senior citizens party. It starts the holiday season off with a happy adventure, and sometimes even with a BANG. Halloween is a time that things go bump in the night . . . full of mystery and intrigue.

Fall is my favorite time of the year, and it always seems that Halloween starts it off with a seniors party and the parties don't stop until after the first of the new year. Whether it is a hay ride trick-or-treat, or all those goblins going door to door in groups,donned in look-alike garb like Zorro, Superman, Spider-Man, Batman, and even Captain Marvel easy Halloween costumes. And we must not forget the power women (my dad used to call them the old bats) like Wonder Woman, Spider Woman, and Cat Woman, and now the latest craze, Lady Gaga.
Senior Citizens Party
Halloween is a wicked fun of night spooks and pick-your-own-poison spirits. It's a wonderful time to have adult Halloween party ideas for senior parties. It's a time to be creative and try something you have never tried before. Halloween decorating ideas for senior parties can be as simple or as detailed as you have the money and time for. While many like to take it over the top, small things can have a huge impact, too.
What kind of adult Halloween party ideas do you have? Do you plan a sexy Halloween party? Or something formal and upscale like a Halloween Masquerade Ball for your senior citizens party? There's no end to the selection of indoor and outdoor Halloween decorations, scary Halloween invitations, adult easy Halloween costumes, Halloween party foods, and Halloween party games ideas.
It doesn't matter what you are serving at your senior parties, there is always someone cooking up some creepy bones party invitations, carving their special party pumpkins, and stirring up some happy hauntings for a monster mash bash or a haunted gathering of ghouls and goblins fit for kings and queens of senior playful years. It's true, isn't it? Seniors live it up! Always ready for black cats and senior parties. Read more about adult Halloween party ideas among these pages.

Return to top of page:Halloween Decorating Ideas
Visit other Halloween Party Pages:Other Adult Halloween Party Ideas Pages
Return to Senior Parties Page for other party ideas.
Return to Seniors Live It Up Home Page
Coming Soon:
Halloween Party Foods
Halloween Party Games Ideas