Independent Living Aids - Redescover your sense of adventure
You can use these independent living aids and make plans to live the life you have only imagined. It's time for you to rediscover your sense of adventure. It will take some dreaming, remembering, and insightful thinking on your part to make it work. Are you ready?
I'll call this my "What If" project. You will need to let your mind wander and explore your likes and dislikes without anyone asking you who, what, where, how, or why. You need only fill in the blanks with your own thoughts, finish the sentences, or answer the questions. It might be a good idea to grab a pencil and paper to help organize your thoughts while you are using these independent living aids.
There is no right or wrong answer. In fact, there are no answers provided at all. You must provide all the answers and may even provide the questions that will invoke those answers. No one is going to see them, no one is going to grade them, and there is no analysis of your final thoughts. In fact, you are the only person who will see them unless you choose to share them with someone else.
Pause here and print out your Independent Living Aids Questions by clicking on this link:
Independent Living Aids Guidelines
Once you have completed them, come back here for some final thoughts.
Your mind has had time to wander. You've explored your likes and dislikes without any probing while using your independent living aids guide. You've invoked emotion into your thoughts and answers. What special emotions has this exercise brought forward for you? Did you laugh at anything you remembered? Did something make you cry or feel sad?
What would you change today, that is within your control, to make your life different? Did you come to any conclusions about your senior independent living plans? Now close your eyes and answer this question for yourself: How do you envision the next 10 years for yourself?
If this exercise has made you cry or feel sad; deal with the stress and sorrow of the down times now; but you cannot let it consume you. Humor, even in the loss of a loved one, if we can find a tiny fleck of humor in the celebration of their life somewhere; then it makes our life better, our healing faster, and our inner strength stronger. It makes you humble and vulnerable; but not too vulnerable. This result is a perfect combination moving forward for senior active living.
Now is the time to make plans to live the life you have only imagined and dreamed of. Find something you like to do and do it regularly. Make a difference in your own life first, then make a difference elsewhere. If this exercise has made you laugh or lifted your spirits in any way; perfect! Humor is the key going through all phases of our active senior living aids, flying with the highs in joyous revelation about ourselves and others.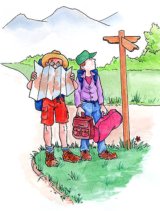 You've finished the project. You've found desire, humor, sadness, and determined what you want for yourself going forward in your independent senior living. Now is the time for you to be rewarded. It's time for you to rediscover your own sense of adventure. What's it going to be? Your body does what your mind tells it to do. You tell your mind what to do by your sense of emotion. So let the emotions flow. Visualize how you want your life to be. Think about it and do it! Find your happy place and go there! It's your destiny to be happy!
On the following pages, we will walk you through a few exercises to assist you as senior retirement living aids. You can view each page of thought provoking ideas below:
Or Return To The Home PageSeniors Live it Up