Seniors Live It Up!
The truth of the matter is that seniors live it up!
I'm sure you have heard repeatedly that seniors have one foot in the grave and another on a banana peel? Old stuff, isn't it? They are aging, some still young, some are elderly, and some are just down right old. But make no mistake about it; they are not dead yet, mentally OR physically. So don't start counting your inheritance just yet because there may not be any left.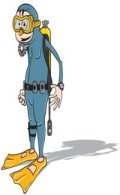 Okay, so they do have concerns that they might outlive their money or their children; yet most of them are out there living life to the fullest. Seniors living it up today are taking the Serenity Prayer to a whole new level. They just don't mess with things they can't change, and they don't spend time thinking about what they don't have. They are a fun-loving group!
I happen to be one of those that love them dearly and think they play a very special role in our lives and our heritage. It is my belief that seniors have an easier time today realizing what a gift their lives are; rich or poor, and they know their time on this earth is of great value, but far too short. Aren't we all headed for the same destiny?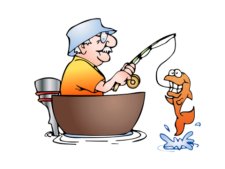 You will find on these pages various forms of entertainment AND nformation; whether you are a caregiver, a senior citizen, or just someone who might have an interest in the old, and the not-so-old, important additions to our lives. So, in order to give them the attention they deserve, I have a special request.
It's not difficult, really, I only ask you to deposit your cell phones, pagers, laptops, and car keys in a vault somewhere that only opens certain hours of the day, and for brief moments of time. Sometimes, just like with kids, seniors just need your full, undivided attention without the other distractions that we so viciously practice in multi-tasking. Can you spare them some of your precious undivided time? Can you show some good old fashioned respect and care where nothing is about you or yours? Good!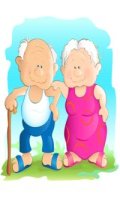 We are going to share with you many things about senior citizens retirement wishes, retirement sentiments, and how you can live your dreams retire ideas that you may or may not know. We'll try to keep it light while we enlighten you with facts and trivia, humor and sadness, fear and regret. But in the end, we hope the good far outweighs the bad and you leave here with a happy heart, a smile on your face, and a greater sense of pride in knowing how seniors live it up.
On these pages, we are going to make you a better caregiver in aging parents care with exercise programs for older adults, and raise the bar on active senior communities with senior living articles, easy healthy meal ideas, and special websites for senior citizens for you to enjoy and learn from.
Also, we are going to engage in games for seniors, senior night ideas, Senior Parties, places where senior people meet, with special themes for parties and party food ideas; throw in some retirement humor, and how to become more sexy senior citizens. There's much to share.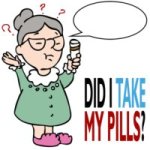 We are going to talk about senior activity ideas and how they might affect the quality of life scale for them, complete with senior living aids and resources of websites specificaly for senior citizens. There will be worksheets, senior questionnaires and ideas of what to do after retirement and how to become seniors for living in a simpler, happier, independent, and more proficient way.
The good news is that it has already begun. Worldwide, seniors live it up! The latest senior trends and newest ideas in senior living and housing are changing daily. We are constantly searching for new and innovative ways and information to do it better, to do it simpler, and to do it happier than ever before. So check back often for the latest seniors live it up news and periodic special activities and solutions.
Enjoy your journey!

Return to the top of the home page Seniors Live It Up
Table Of Contents
Seniors want to know how and where you can enrich life, make smart aging naturally choices, and delight in priceless humor. We'll keep you in the news while you seniors live it up!
Everything you want to know about what grandparents want for National Grandparents Day. It's all about "time".
I love a good luau party plan for seniors. Luau's are all about color; color on land, color in water, and color in the air.
Luau Party Recipes for Senior Parties offers luau food ideas and part of a luau party plan
Water Exercises For Seniors is probably the easiest and most enjoyable form of fitness; but there are precautions to be mindful of.
Senior Retirement Living - Making it easier to maintain your independence and make informed choices.
About Me - Why I think the senior care system is broken with nurse negligence, patient abuse, elder abuse neglect and we need to fix it for seniors and others alike
Privacy Policy And Disclosure
Surprisingly, some seniors eat cheaper and better than most with their easy healthy meals prepared at home.
There is nothing more entertaining and engaging than senior parties when it comes to entertainment for seniors
Las Vegas Deals for Seniors and Las Vegas Senior Living
When is Easter?
Easter Party Ideas & Games For Seniors
Senior Living Communities & Active Senior Communities
Senior Pen Pal is a collection of short retirement jokes, some quips and quotes, clean short jokes, stories of secret admirer, senior priceless humor, and getting old jokes and stories of all kinds.
How do you define seniorcare? We think it encompasses all phases of senior care issues.
Senior Citizen muscular aches and pains and solutions and remedies outside doctor visits and prescriptions
Retirement Wishes of Aging Parents Care
Exercise for seniors is an informative site on the benefits of walking, weights, balance, low impact, dancing, sports, equipment or no equipment type exercise.
Balance exercises and senior weight training are among the best exercise for seniors you can do to get a core workout and increase coordination and balance.
Low Impact Exercises for Seniors is the one of the most beneficial things seniors can do for themselves. Here's why.
Some seniors just live to dance without realizing the benefits they reap. Dancing, dance workouts, dance exercises and videos for seniors adds years to your life and life to your years.
The benefits of walking for seniors are plenty vs the effects of a sedentary lifestyle. Here are many of the benefits.
Retirement sentiments about aging naturally and overcoming loss and moving on with life
Foundation for Senior Living is a lot different now as we are children of aging parents
Independent Senior Living and active retirement living is a decision not to take lightly. Effective tools are needed to arrive at sound and sensible decisions
You can use these independent living aids and make plans to live the life you have only imagined. It's time for you to rediscover your sense of adventure.
Halloween party game ideas for seniors is the epitome of endless ways seniors live it up!
Halloween party foods for senior parites and Halloween party recipes are abundent and follow the fall customs with the idea of feed, frolic, and hybernate - after seniors live it up.
Hawaiian Luau Party Games for Seniors can provide hours of entertainment, and memory making events of a lifetime for all your senior luau party plans.
When is mothers day gives a variety of mothers day present ideas and good mothers day gifts in celebration of Mother's Day.
Mothers Day activities has ideas and games for seniors, fun activities for seniors, and senior fun with Mothers Day ideas.
Senior living properties is to assist in making decisions for your longterm residence and care in your aging lifetime
Senior Living Questionnaire
Adult Halloween Party Ideas for Senior Parties is yet another idea for theme parties for senior citizens and halloween activities
Everything you want to know about Halloween decorating ideas and ideas to plan a Halloween party for senior citizens
What do you think of when you consider senior independent living? Ask yourself these questions. After your mind has had time to wander, it's time for you to rediscover your sense of adventure.
Over The Hill Party & Getting Old Party is only the tip of the iceberg when seniors live it up. There is a whole host of senior themed party ideas and fun party games for seniors.
Senior Living Aids offers many tools and active senior living ideas with questionnaires and thought provoking exercises
Why do we celebrate Thanksgiving? Besides the obvious reasons, it's a perfect time for socializing and do thanks giving.
Would you like to share your knowledge about seniors live it up? Great, find out how you can submit your story or tip here.